Be Your Own Boss: A Fast and Friendly Legal Guide to Starting Your Own Business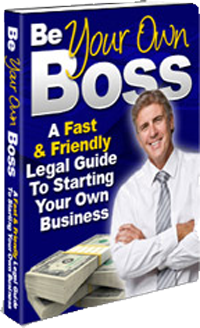 Thinking about starting your own business?
Before you fill out ANY form, or file ANYTHING with the MN Secretary of State, get this FREE Consumer Guide,
"Be Your Own Boss: A Fast & Friendly Legal Guide to Starting Your Own Business"
Deep down, do you want to be the captain of your own ship? Do you want to set your own schedule and fully leverage your talents, gifts and ideas to provide for yourself and your family? Do you wish to build your own dreams and financial future instead of your boss's? Then you've come to the right place.
Many people starting businesses make the mistake of filling out standard articles from the Minnesota Secretary of State, filing them, and then believing that they've done everything they need to do to start a business. However, what you don't know can hurt you and simply filing form articles can result in:
· Exposing Your Home and Savings to Creditors – If you set up your business incorrectly, your home, savings and other assets may be at risk for creditors of your business.
· Being Responsible for Your Partners – you read that correctly, if you don't set up your business correctly, you could be held responsible for the actions of your business partner.
· Paying Too Much in Taxes – If you choose the wrong form of business, you could end up paying WAY too much in taxes.
FREE Consumer Guide Reveals
the Facts You Need to Know
In this book, Minnesota business lawyer, Chuck Roulet separates the myths from the facts. Here is just a small sample of what you'll learn:
· The differences between an S corporation, a C corporation and a limited liability company "LLC"
· How to protect your personal assets from creditors of your business
· How to choose the right type of business structure for your business
· How to minimize taxes on your business
· The 7 steps to properly setting up your business
· Real world examples to help guide you through the process
· Insider tips, tricks, and secrets usually only shared with our corporate clients
· And much, much more . . .
Free, No Obligation
Author Chuck Roulet counsels business owners across the globe on business formation, tax planning and asset protection. Chuck speaks across the U.S., has been interviewed on CNN and has taught hundreds of entrepreneurs how to start a business at Open U through the University of MN. To get his FREE, no obligation book, simply put your name and e-mail address in the box to your right and you will be provided a link to download your free book.