Top estate planner is helping Minnesota residents safeguard their assets and enjoy their hard earned Retirement.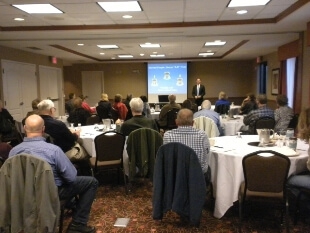 Join nationally recognized attorney, author, and speaker Chuck Roulet for a fast-paced, informative class on insider tips for how to protect you, your family, and everything you've worked for in the event you were ever unable to manage your financial affairs and medical decisions due to illness or if you were to pass away.
Our seminars are now being held online to accommodate social distancing. Topics covered include Wills vs. Trusts, Extra Protections Available for Your Beneficiaries, and Florida Snowbird Planning.

Click here to register or call (763) 420-5087.
At this seminar, Chuck will be sharing the same advanced strategies and techniques he's taught to over 24,000 other attorneys, financial professionals, and individuals from across the country.

"We've been to a lot of these seminars over the years, but we learned more at yours than we did at any of the others."
Plymouth, MN seminar attendee

"I can't believe how knowledgeable Chuck is...He has a knack for taking this material and explaining it in a very easy to understand manner, so even somebody who struggles with this kind of stuff, like me, can understand it better." (Click for video testimonial.)
Dave M., Maple Grove resident

At this eye-opening seminar, you'll discover:
Why your estate plan may fail to protect your family from losing their inheritance due to the divorce of a married child, lawsuits, creditors, and government claims;




Why your estate plan may fail to protect your valuable IRAs so they may later provide much needed retirement income for your loved ones;




Why, instead of putting their inheritance to good use--like pursing higher education, starting a career, or buying a house--your loved ones may squander it, and strategies to safeguard it for them;




And much more. Plus, there will be time for individual questions and you'll receive a free one-hour consultation.

You've worked hard to build your estate. Now, don't make the mistake of losing your money and property. I look forward to saying "Hello" to you in person.
Complete the form below to register for a seminar, or call (763) 420-5087.
Chuck is a national speaker on estate planning and has presented to over 25,000 individuals, accountants, and attorneys nationwide. Past attendees of his seminars include individuals interested in their own estate planning, as well as professionals from the U.S. Government Accountability Office, the IRS, the "Big 4" accounting firms, universities, banks, and government officials from cities, counties, and states.

Feedback from past presentations
"Outstanding presentation. Truly enlightening." Clay R.
"This is one of the best I've attended. Concise and very well presented!" David D.
"The presentation was excellent! The information provided was current and extremely valuable for assisting with estate planning." Sherry M.
"Very concise and extremely informative. Speaker very effective!" Debbie V.
"This is an outstanding primer for estate planning." Rodger M.
"This is the clearest and most thorough estate planning summary presentation that I have seen. Thank you!" Gayle H.
"I greatly enjoyed the seminar and the speaker, Chuck Roulet, is very knowledgeable and has the ability to explain complicated subjects in an easy to understand manner to non-attorneys." David C.
"This was by far the most informative and interesting course I have taken yet. The content was excellent and relevant. Could have listened for hours." John P.
"Wow, Chuck was about the most organized, efficient, and clear attorney I've ever heard or met! Thank you for such a clear presentation!" Jean T.
Reserve your spot by completing the registration form below.
Secure Your Seat for Free Today